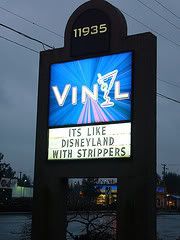 Maybe things aren't going so well at work these days. Out of the blue, a new idea pops into your head: is it time to go? (This is where the scary music gets loud in the movie to warn us that something bad is about to happen). Then it happens. You're online and you take just one little fast glance at "a few listings on Monster.com". Stop. Don't go there. Literally.

Instead, I suggest a different kind of choice: how about a self scan instead of a new job scan? How about a better you instead of a better job? If I asked your boss – or your staff – these five questions would you like the answers?

Does Molly come to work every day with a fully engaged attitude?
Does she ask for feedback about her performance?
Does Molly contribute to a happy and productive atmosphere?
Is she a valuable member of the team?
Does Molly contribute to your ability to do a good job?

The 'best you' choice requires that you to stop looking outside at the things in your way like new competitors or a bad economy, or start looking inside. At your talents. Identify the things you do well and do more of them.

Ralph Waldo Emerson said, "Our chief want in life is somebody who will make us do what we can". I say, do it for yourself.