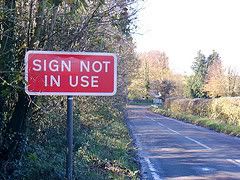 Please don't be the boss who "just doesn't get it". It's surprising when managers need to be reminded of the basics, but many need it. This is not a complete list, but it's a good start.
Are you feeling brave this week? I have a challenge to offer you, but first, the list.
Rate yourself on the following statements. Score it #1-5 where #1 means you strongly disagree and #5 means you strongly agree.
· I don't talk about myself all the time.
· I don't say one thing and do another.
· I don't play favorites
· I don't bad-mouth my employees, co-workers or the big boss
· I don't treat everyone the same…I treat people as individuals.
· I don't change the rules without telling people
· I don't promise things that I can't deliver
Here's the brave part. Print the list, pass it around and ask your staff to rate you on the same 1-5 scale. We could add one more..."I don't act like a coward". Go ahead. Be brave.