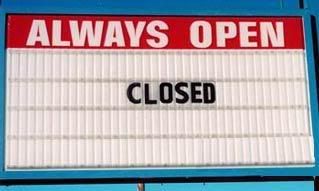 I'm vacationing in London and managerial lessons are all around. We were riding the Tube (subway) today and as transportation does, it just stopped. After about 90 seconds a very pleasant female voice began explaining the reason for the delay – there was a stalled car ahead. She apologized and went on to say that the estimated time of delay would be 6-9 minutes. 6-9 minutes! She didn't say "soon". She didn't say "we don't know". She said 6-9 minutes. Wow.
Here's my revelation for today's event: because I learned the reason for the delay along with my new estimated time of arrival nobody nobody nobody seemed frustrated. Lots of people were nodding as if they felt bad for the Tube!

It may seem like a small thing, but it was so respectful. It was so reasonable. Almost pleasant.

Managers should operate like the nice Tube lady. Every time something goes wrong you can summon your own pleasing voice and be a truth-telling manager.
Q: What would happen – good and bad - if you were totally honest with your employees?
A: Far more good things would happen.

Yeah, yeah that's rubbish you say.
But it's not.

How many times just this week that you didn't tell the (whole) truth. Think of a specific incident and ask yourself, "why not"? Why didn't you tell the whole truth?
I am not suggesting that you tell lies…merely that you do not reveal the whole truth nearly often enough. Again, why not?

I promise that if you decide to tell the truth the great majority of the time (I'm giving you a tiny bit of leeway) you will get a better outcome from your team. And it's not just a decision - it's a commitment.

Here's how you know that I'm telling you the truth:
YOU want the whole truth, right?
You can take it, right?
You deserve the whole truth, right?

Try this: BE the manager that YOU want to work for.